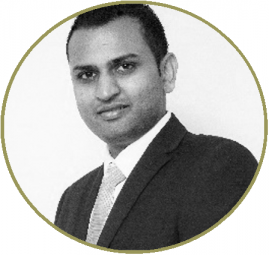 Dr Jay Jindal
B.ASLP, Au.D. FSHAA
Consultant Audiologist (Paediatric and Vestibular). Hearing, Balance, Tinnitus and Auditory Processing Disorder Specialist
Jay Jindal is a highly qualified audiologist with a doctorate degree in audiology and 12+ years of experience in NHS and independent sectors in UK. He has joined the team at 150 Harley Street to provide his expert services in Dizziness/Balance and paediatric hearing care. This makes the clinic a one stop shop for the best and most complete audiology care.
Jay is NHS trained and has a vast experience of dealing with hearing and balance issues in both children and adults. In fact, the youngest person he saw for a hearing assessment and hearing aid prescription was a two weeks old little baby; and the oldest person was a 106 years old former boxer. He considers it a privilege to be able to work with such a diverse clinical age-group, learning from the experience and helping people to have a better life at the same time.
With additional training in speech therapy and aural rehabilitation, he has an added advantage of understanding the communication issues that can arise irrespective of hearing loss. For example, he once identified a specific issue known as 'wide vestibular aqueduct' in a school going girl that can cause fluctuating hearing loss, who was deemed to be 'making up' her hearing loss when she will present different hearing loss on successive tests.
Jay continuously strives to improve the professional ethics and practice in audiology. He is a member of Fitness-To-Practice (FTP) panel of the UK's regulatory body for hearing aid audiologists-Health and Care Professional Council (HCPC). The panel investigates the allegations of malpractices in the hearing aid audiologists.
Jay has also been appointed as Professional Development Consultant for the largest organisation of independent hearing healthcare providers in UK- British Society of Hearing Aid Audiologists. He is a member of the prestigious Professional Guidance Group of British Society of Audiologists, and is key author/reviewer of some of the national guidance produced via this group. Jay has keen interest in academics and research. He has various national and international publications to his credit. He organises his own internationally renowned clinical audiology courses; and is often asked to deliver lectures at various national and international conferences, seminars etc.
Jay is founder director and CEO of a fast-growing audiology consultancy company in London and Kent, known as Audiology Planet. For more information, visit www.audiologyplanet.com
Professional Memberships
1. British Society of Hearing Aid Audiologists
2. British Society of Audiologists
3. British Academy of Audiologists
4. Registration Council of Clinical Physiologists
5. Health and Care Professional Council
6. ENT UK
Latest articles:
1. Connectivity with hearing devices for music and speech
2. Cortical Evoked Response Audiometry (CERA): How I do It!
3. Auditory Processing Disorder: Article Based on a Recent Live Chat
4. Is music damaging your hearing?
5. Caring for your child's ears & hearing
Contact Dr Jay Jindal
075 436 64692 / 0330 2233 453

150 Harley Street,
Marylebone,
London W1G 7LQ